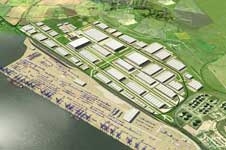 DP World has purchased the remaining land it needed to develop its London Gateway container terminal and logistics park.
In a Dubai stock exchange announcement, the Dubai World-owned terminal operator said it had purchased the 400ha of land and Shell's remaining interests in the project for around US$220m, and said it would proceed with initial work on the site.
"The board of DP World Limited has reviewed a number of options for the London Gateway project in light of the current market downturn and is pleased to announce it has decided to proceed with construction of essential infrastructure that lays the foundation of the facility.
"DP World will continue to review the development of the port and park operations in line with market demand."
The announcement coincided with a visit to site by UK Prime Minister Gordon Brown and secretary of state for business Peter Mandelson, where they were welcomed by DP World chairman Sultan Ahmed Bin Sulayem.
Gordon Brown said: "The London Gateway is a significant foreign investment into the UK. It is a massive vote of confidence in the UK's economic recovery and in this region.
"I am delighted with the decision to locate this world-class project here in the UK. It will help bring the largest deepsea vessels here and improve the efficiency of the UK's freight distribution, creating thousands of jobs, future growth and economic prosperity."
Mandelson added: "London Gateway will mean the creation of 36,000 direct and indirect jobs. This project sends a message to companies worldwide that the UK is the number one place in Europe to invest. It is an excellent example of the long-term investment that the UK is looking for.
"Developing our infrastructure will underpin the steps the government is already taking to stimulate the economy, and will lay the foundations for further advances in the future."
Bin Sulayem further explained: "By starting the major elements of construction, we ensure maximum flexibility to develop the project efficiently in line with market demand."
When complete, the £1.5bn ($2.4bn) container terminal will have a 3.5m teu capacity, while the distribution and logistics park will be Europe's largest with a total footprint of 860ha
http://www.ifw-net.com/freightpubs/ifw/indexarticle.htm?artid=20017733963